The Sumi Languages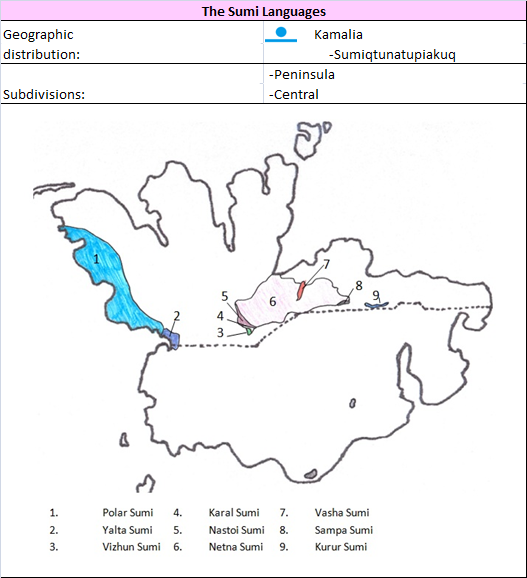 The Sumi languages make up a language family of 8 languages spoken by approximately 6 million people in the Ice and tundra region of Kamalia. The healthiest Sumi languages, in terms of number of speakers, are Polar Sumi and Netna Sumi with Polar having about 400.000 more native speakers than Netna Sumi. These two are also the best documented of the Sumi languages. The Sumi languages are divided into two groups which are seperated by the Qumal Mountain Range, Peninsula (consisting of Polar Sumi and Yalta Sumi), and Central which contains the remaining six. In the Sumi languages exists a dialect continuum, in which some are mutually intelligable with those surrounding it, and some are not.
Classification
Sumi


Peninsula

Polar (3 million)

Yalta (~2,000)

Central

Vizhun (Near Extinction)

Karal (Near Extinction)

Nastoi (~650)

Netna (2.6 million)

Vasha (~1,500)

Sampa (200)

Kurur (3,200)
Typology
Grammatical
Extensive use of independent suffixes.

A large set of grammatical cases.

Ergative-Absolutive morphosyntactic alignment.

A lack of Grammatical gender.

Repetition of words to form the dual.
Phonological
Palatalization of consonants. (Central Sumi)

A consonant gradation of /n/ to /ŋ/ before /k/

A basic vowel inventory including, but not limited to, /a/, /i/, /o/, /u/.

Few or no voiced plosives.

The use of tone.

Stress on the primary syllabe.

Lengthened vowels.
The Sumi Languages

A Sumi Camp near the coastline.
Return To the Kamalian Homepage